Barrick Goldstrike Trolly Assist Project: *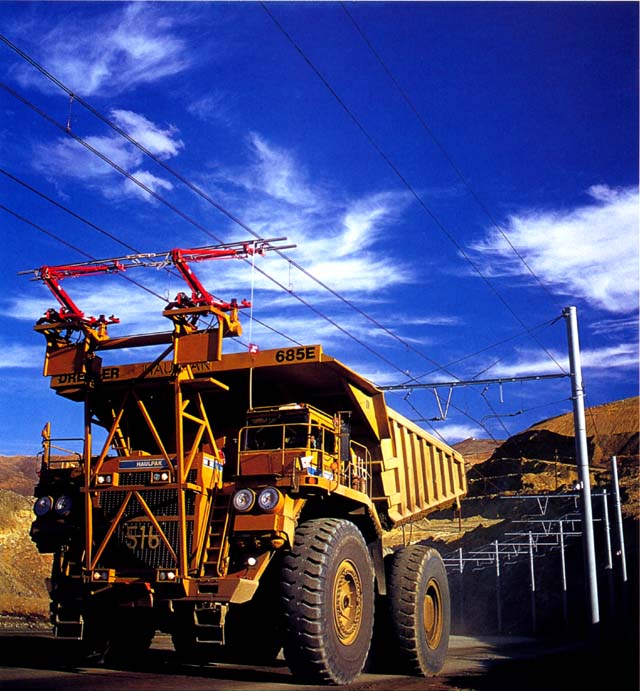 The Barrick Goldstrike Mine in Northeastern Nevada is the largest gold mine in North America, with gold production for 1996 expected to exceed 2.0 million ounces. Material is currently being mined at a rate of approximately 410,000 tons/day. This requires a fleet of 75 haul trucks of 190 ton capacity to move the large quantities of gold ore and waste. The cost of operating and maintaining the truck fleet constitutes a significant part of the mine's operating costs.
To reduce the mining costs, Barrick installed a trolley assist system on the most heavily traveled uphill grades. The photo at the right ** is of one of the diesel-electric haul trucks showing the pantograph appratus at the front of the truct connected to the overhead electric grid.
My Participation on This Project:
While at Bechtel, I was the Design, Procurement, & Construction Manager of the Trolley Assist System at the Barrick Goldstrike Mine.
How Trolley Assist Works:
The basic components of a typical diesel-electric haul truck includes a diesel engine that drives a traction alternator which produces the electricity used to drive the wheelmotors. The truck's control cabinet conditions the power, in terms of volts and amps, so that the motors will provide the desired speed and torque -- much as a transmission would do in a mechanical drive truck. The speed of the vehicle on grade is limited by the horsepower output of the diesel engine. Cooling air for the wheelmotors is provided by a fan on the end of the alternator, which is directly driven by the diesel engine.
A pantograph is mounted to the front of the truck, so that electric power can be collected from overhead lines. Additional control devices are added to the truck, so that power from the overhead lines can be properly applied to the wheelmotors.
When on trolley, a truck's diesel engine and alternator are not used for propulsion. The engine's speed automatically drops to an idle, with all the power for propulsion coming from the overhead lines. The system is designed to provide the highest possible line voltage which the motors can safely handle -- so that the truck will operate at the highest possible speed. The speed of a diesel powered truck is limited by its engine horsepower, but the speed of a trolley truck is limited by the capabilities of its traction motors.
---
---
Barrick Goldstrike Video:
Below is a promotional video produced by Bechtel and sponsored by Barrick, Komatsu, GE, Siemens, TransTech, and Caribou.